Member Spotlight Cikeithia Pugh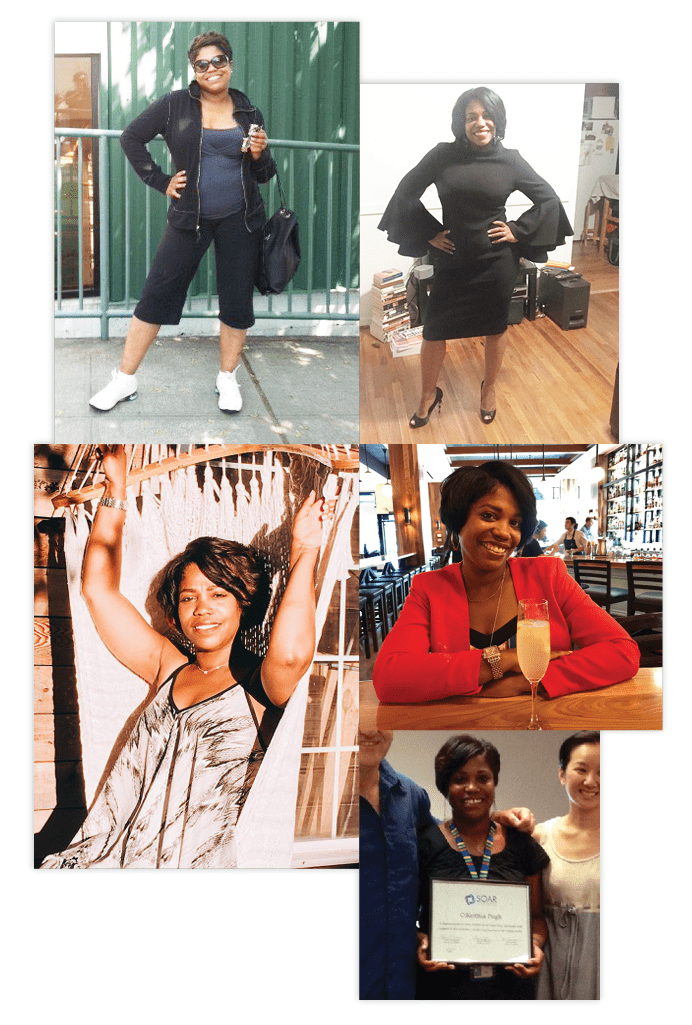 If you've been to a DancePowered class at Youngstown, or most of our events, you may spot long time member CiKeithia Pugh front row and smiling…bringing the swagger and fierceness to class! She's been working on her fitness for several years now, making small, achievable changes to her life and sees results she likes! You can see the changes in CiKeithia from her earlier pictures above, Top image in 2011, and bottom image from 2014. All the rest are from 2017. Wow CiKeithia! Looking great!
CiKeithia, you with your beautiful smile, your positive attitude, your award winning work, style queen and dance swagger, we have questions for you!
What are your occupation and what are your  hobbies?
Program Manager and Racial Equity Consultant. I enjoy shopping, spending time with friends and family, and dancing of course!
How do you manage to fit it all into your day?
I don't. Admittedly I am a work in progress. I completely push back on the notion of being able to do it all. My thoughts? Do what is most important one day at a time.
What's the award you're holding in the middle photo above?
It's the 2014 SOAR Community Achievement Award : ) You'll have to google it!
What are your fitness goals?
I threw away my scale years ago. I do not live my life by a number. My goal instead is to get some form of exercise at least 3x a week . Never stop moving! Food also feeds the brain so I am conscious of my meals making sure to eat a balanced meal breakfast, lunch and dinner as well as making good snack choices.
What keeps you motivated?
Reminding myself of how good I feel when I work out and physically seeing the results is the best motivator. I feel good!
What do you eat to fuel for your workouts?
Peanut butter and bananas. I also don't forget water!
You've been with DancePowered on and off for nearly 7 years now (did you realize that?) What is it that you like about the class?
DancePowered makes me feel alive. The high impact workouts to all of my jams is the best ever! Jennifer is a phenomenal instructor that pushes us to the limit each class. I just love it.
How has dancing helped you in other areas in your life?
Confidence. If you can twerk in front of a stranger you can do just about anything.
I agree! 
What's your guiltiest food pleasure?
Spicy nacho Doritos with con queso dip.
Was not expecting this level of guilty pleasure…..Well done!!! 
Fitness goals are best achieved with more than one format.
What else do you do to keep fit?
When my schedule permits I also attend a fitness boot camp.
What would people find surprising about you?
 I am not as outgoing as people think. I like to sit back and observe before I jump in. I place high value on relationships and like to surround myself with genuinely good people. I often say I have a lot of associates, but very few friends.
Beyonce's alter ego is Sasha Fierce. Who is your dancing alter ego?
 I call her Keke. Keke is an around the way girl. Old school style. If it was a popular dance back in the day Keke will rock the hell out of it.
We love you and your alter ego!
What does your spouse think about your dancing?
 He loves it because it makes me happy.
Good Man. Wise Man.
What or where is your happy place?
 #1 A DancePowered Class #2 A good day of shopping
Sassy Words of Wisdom:
 Life is short, ride it til the wheels fall off.
https://www2.dancepowered.com/wp-content/uploads/2020/06/DPLogo_Color-01-300x80.png
0
0
adminwp
https://www2.dancepowered.com/wp-content/uploads/2020/06/DPLogo_Color-01-300x80.png
adminwp
2017-10-04 12:04:41
2017-10-04 12:04:41
Member Spotlight Cikeithia Pugh