Member Spotlight Kim Sharpe Jones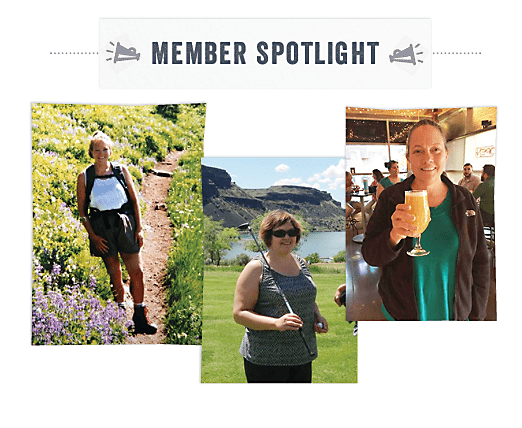 Kim Sharpe Jones is making big strides in her fitness mission. Learn what keeps her motivated and inspired for success!
Q: What's your occupation and what are your  hobbies?
A:  Real Estate Marketing / hiking, reading, travel, working out
Q: How do you manage to fit it all into your day?
A: I'm lucky to work from home – saving that commute time is huge!
Q: What are your fitness goals?
A:  I'm almost 49. My goal is to be in the best shape possible by the time I hit 50 next summer. I tend to get tendonitis and similar injuries, so my goal is to stave those off by listening to my body, and taking care of it with massage, acupuncture and rest as needed.
Q: What keeps you motivated?
A: Fitting into my clothes. Making it up the trail.
Q: What motivated you to stick to your new fitness routine?
A:  I'm very motivated by my current goals, but also by my husband who is on this fitness journey with me. He has lost nearly 100 pounds by working out and eating better.
Q: What do you eat to fuel for your workouts?
A:  Before working out in the morning, I have a Garden of Life vegan protein shake. It has just enough boost to get me going, but it doesn't fill me up. Then after working out, I have a kale smoothie (kale, coconut water, frozen blueberries, banana, peanut butter and coconut oil).
Q: Where are you in achieving your fitness goals?
A:  I've lost 40 pounds in the past few years, and I'm keeping that off. I'd like to lose another 15 pounds in the next year.
Q: You've been with DancePowered on and off for 6 years now (did you realize that?) What is it that you like about the class?
A:  that's crazy!  I love the constant challenge of the choreography. I never look at the clock during class, except to think that I wish we had time for a couple more songs. 😀  I love when the adrenaline kicks in mid-way through class and we really get moving.

I also love the music. I don't listen to much mainstream pop at home (I'm a KEXP listener), so I'm not familiar with the songs we dance to, but when I hear them out and about, l I feel at least a little hip. Like a couple weeks ago, I recognized the walk-up music for one of the Mariners batters. My nephew had to tell me that it was Kendrick Lamar, but hey, I knew the song anyway. (And the moves.)
Q: How has dancing helped you in other areas in your life?
A:  I have better moves when it's time to hit the floor at weddings.
JC: That's what I love to hear!
Q: What's your guiltiest food pleasure?
A:  Way too much Theo Chocolate. I have to have a little bit (sometimes too much) every day!
Q: What other fitness activities?
A:  I really mix it up!  I do small group personal training twice a week at Anytime Fitness. I take other dance classes around town. I go for walks in the neighborhood, and now that it's summertime I go for a hike every weekend.
Q: What would people find surprising about you?
A:   I'm a cancer survivor. I had non-Hodgkins lymphoma in 2008, so I'm nearly 10 years cancer free!
JC: YOU'RE AMAZING!
A:Also, my husband runs the Washington Beer Blog and we love beer travel. It's one of the reasons we started dating – we met over beer.
Q: Beyonce's alter ego is Sasha Fierce. Who is your dancing alter ego?
A:   well YOU are of course, Jennifer! 😀
JC: LOL!!!! LOVE IT!
Q: What does your spouse think about your dancing?
A:  He loves that it makes me happy.
Q: What or where is your happy place?
A:  In the middle of a hike, at the top of a mountain on a sunny day in August. One of my faves: Third Burroughs at Mt Rainier.
https://www.dancepowered.com/wp-content/uploads/2017/07/june2017_dancepowered_v8.png
428
522
adminwp
https://www2.dancepowered.com/wp-content/uploads/2020/06/DPLogo_Color-01-300x80.png
adminwp
2017-07-26 05:14:48
2017-07-26 05:14:48
Member Spotlight Kim Sharpe Jones